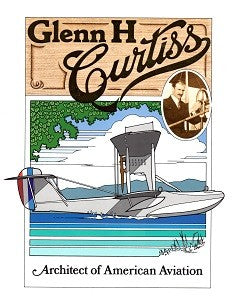 Concise history in color photos and narration of the career of Glenn Curtiss. 9 X 12, paperbound, 16 pages.
At the turn of the century, the tree-lined streets of Hammondsport, New York, vibrated to the innovative machinery of its hometown hero, Glenn Hammond Curtiss.
During his fifty-two years, this remarkable man would revolutionize motorcycle design, as well as that of the gasoline engine, take aviation to America's front pages, build cities, and hold well over one hundred fifty patents.
In an era when true individualism is all too rare...the memory of this quiet genius will serve to inspire those who seek the future.