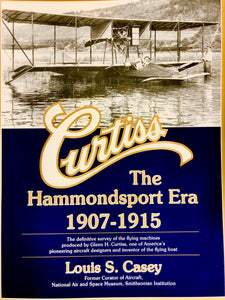 By Louis S. Casey
235 pg
The definitive survey of the flying machines produced by Glenn H. Curtiss, one of America's pioneering designers and inventor of the flying boat. 
Author: Louis S. Casey, former Curator of Aircraft, National Air and Space Museum, Smithsonian Institution
Glenn Hammond Curtiss was the dominant personality in the pioneer era of American aviation. To the Wrights goes the honor of the first powered airplane flight in 1903, but the achievements of Curtiss spanned several decades and took the airplane from its strut, wire, and fabric configuration to the forerunners of modern transport aircraft. Curtiss's accomplishments over the years almost overshadow those of the Wrights, and in the field of marine aviation, he is without peer. 
... by 1913 Curtiss was the largest manufacturer of aircraft in the United States. Planes made by Curtiss made the first carrier takeoffs and landings, carried the first autopilot, and were used to train most of America's pilots during World War I.