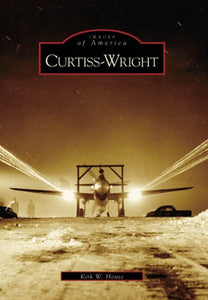 By Kirk House
128 pages
The oldest names in aviation joined forces in 1929, when Wright Aeronautical and Curtiss Aeroplane formed the giant Curtiss-Wright Corporation. Curtiss airplanes were already "the best things with wings," while Charles Lawrance had made Wright powerplants the leader in American radial engines. Aviation founding father Glenn Curtiss, along with superstars Charles A. Lindbergh, Jimmy Doolittle, Admiral Byrd, and "Wrong-Way" Corrigan, all blazed skytrails with Wright engines and Curtiss wings. Tiny Sparrowhawk biplane fighters flew from airborne dirigibles. Huge factories poured out warbirds in tens of thousands for World War II. Pilots flew them everywhere, from the African desert to Alaskan ice, South Sea islands, and even the Taj Mahal. Relive those days when women, old men, and teenagers kept the factories roaring, and follow Curtiss-Wright clear into the 21st century.
Packed full of photos this book is a wonderful visual history of the early years of the Curtiss-Wright Corporation. 
Author Kirk House is a noted aviation historian and former curator of the Glenn H. Curtiss Museum.